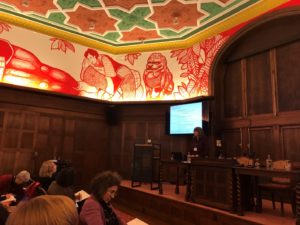 21-22 of May 2019 the closing event of the Horizon 2020 EFFORTI project "Evaluation Framework for Promoting Gender Equality in Research and Innovation" was held in Brussels. The event brought together over 50 participants from policy makers and administration of research organizations and business to discuss the EFFORTI toolbox and future directions for gender equality and evaluation policies in Europe. BASNET Forumas President Assoc. Prof. Dr.  D. Šatkovskienė participated in the event as an invited expert.
EFFORTI project analysed and modelled the influence of measures to promote gender equality on research and innovation out-puts and on establishing more responsible and responsive RTDI systems.
The EFFORTI project consortium consisted of six partners representing a wide arrange of different institutional types, distributed all over Europe (Germany, Austria, Spain, Denmark, Hungary and Luxembourg). It was coordinated by Fraunhofer Society (Munich, Germany). EFFORTI framework  enabled a wide range of stakeholders – ministries, funding agencies, programme owners, equality officers etc. – to conduct a sound and comprehensive evaluation of the gender equality but also research and innovation outputs, outcomes and impacts of gender equality (GE) measures. During the event there was presented the developed EFFORTI toolbox supporting programme designers, evaluators and scientists with comprehensive information on possible gender equality measures in research and innovation and their versatile effects. Part of the toolbox is a log frame generator that supports users in developing and visualizing their own program theories.
More details about EFFORTI project and developed toolbox you can find here.